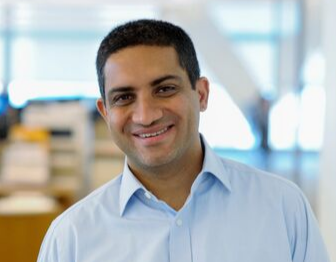 Head of US Consumer Business, Goldman Sachs
Omer Ismail is a partner at Goldman Sachs and the head of the firm's US Consumer business. In his role, he oversees the Marcus by Goldman Sachs and Clarity Money businesses as well as the Goldman Sachs and Apple credit card partnership. Under Omer's leadership, Goldman Sachs' US Consumer business has grown to 4 million customers, $5 billion in loan balances, $38 billion in deposits and 1,400 employees.

Omer's role in launching Goldman Sachs' Consumer business started four years ago when, after a decade in private equity investing and investment banking, he was asked to lead a team to evaluate opportunities in the consumer space. After identifying several business opportunities, Omer became the Consumer business' first employee – tapped to serve as the chief operating officer and tasked with building the team and overseeing the development of the product, operations, risk and marketing functions. Omer was promoted to the head of the US Consumer business last year.

Goldman Sachs launched its consumer platform with a vision of giving consumers control over their financial lives through products that are simple, transparent, easy-to-use and always on the side of the customer. Since its launch three years ago, the offering has resonated strongly with consumers including being recognized as one of Fast Company's Most Innovative Finance Companies and being ranked #1 in J.D. Power's Customer Satisfaction survey in the US Personal Loans category.

Prior to joining the Consumer business, Omer spent a decade in the private equity division at Goldman Sachs, focused on investing in technology-enabled businesses in the financial services, media and healthcare sectors. During his tenure, Omer led a number of controlling and non-controlling investments ranging from leveraged buyouts to growth equity investments. Omer's investments and board assignments included the YES Network (the Yankees regional sports network start-up), Brighton Health Group (a growth platform in the healthcare delivery sector) and Advanced Recovery Systems (a roll-up in the substance abuse recovery space).

Omer is a member of the GS Firmwide Enterprise Risk Committee, GS Firmwide Asset Liability Committee and GS Bank USA Management Committee.

Omer grew up in Karachi, Pakistan and earned a BA from Dartmouth College and an MBA from Harvard Business School. He has been featured in the Wall Street Journal, CNBC, Forbes, Fast Company and American Banker. He has been recognized as one of Fortune's 40 under 40, Business Insider's 100 People Transforming Business, Crain's 40 under 40 and Bank Innovation's Innovators to Watch. Omer lives in New York with his wife and two kids.