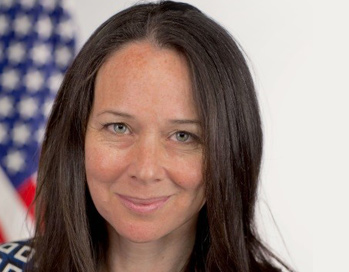 Managing Director, Global Head of Cybersecurity Fusion Center, Morgan Stanley
Jen Easterly is a Managing Director of Morgan Stanley and Global Head of the Firm's Cybersecurity Fusion Center, charged with assessing, detecting, and responding to cyber threats, vulnerabilities, and incidents that incur risk to the Firm. Jen joined Morgan Stanley in February 2017 after nearly three decades in U.S. Government service.

Prior to joining the Firm, Jen served on the National Security Council as Special Assistant to the President and Senior Director for Counterterrorism, where she led the development and coordination of U.S. counterterrorism and hostage policy. Prior to that, she was the Deputy for Counterterrorism at the National Security Agency, responsible for leading operations to detect and disrupt terrorist attacks against the U.S. and our allies. A two-time recipient of the Bronze Star, Jen retired from the U.S. Army after more than twenty years of service in intelligence and cyber operations, including tours of duty in Haiti, the Balkans, Iraq, and Afghanistan. Responsible for standing up the Army's first cyber battalion, Jen was also instrumental in the creation of United States Cyber Command.

A member of the Council on Foreign Relations and a French-American Foundation Young Leader, Jen is a Fellow of the 2018 class of the Aspen Finance Leaders Fellowship and a member of the Aspen Global Leadership Network. She is also a Senior International Security Fellow at the New America Foundation, as well as the past recipient of the Council on Foreign Relations International Affairs Fellowship and the Director, National Security Agency Fellowship. A distinguished graduate of the United States Military Academy at West Point, Jen holds a master's degree in Philosophy, Politics, and Economics from the University of Oxford, where she studied as a Rhodes Scholar.

A Trustee of the Morgan Stanley Foundation, Jen also serves on the Board of Nuru International, a non-profit dedicated to the eradication of extreme poverty; the Board of the James W. Foley Legacy Foundation, a non-profit dedicated to advocating for the safe return of Americans held unjustly abroad; and the Board of Theorem Media, a non-profit focused on harnessing the power of storytelling to inspire generations of people to engage in the most important issues of our time. She also serves on the Advisory Council for Hostage US, which supports the families of Americans taken hostage abroad and hostages when they return home. She is the 2018 recipient of the James W. Foley American Hostage Freedom Award.