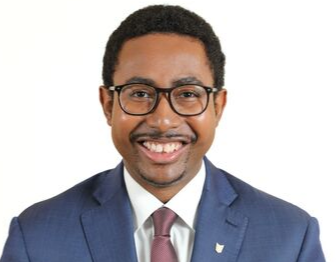 Director, Fintech and Innovation, Autorité des marchés financiers (AMF)
Oumar Diallo has more than 11 years of experience in strategic and regulatory analysis, risk management and financial technology, having worked closely with decision-makers in the financial sectors and international organizations. Perfectly trilingual (French, English, German), he is the Director, Fintech and Innovation at the Financial Markets Authority (AMF).

Oumar has held senior positions, among others, at PricewaterhouseCoopers (PwC) where he has distinguished himself by offering advice and training on technological innovation applied to finance, at the Laurentian Bank of Canada, at the United Nations Industrial Development Organization (UNIDO) and at The Economist. Oumar has a Joint Honors BSc in Economics and Politics from the University of Montreal, a Postgraduate Certificate in International Studies, specialization in International Economics from the Diplomatic Academy of Vienna, and an MPA, specialization in financial regulation from the prestigious École Nationale d'Administration (ENA) of France - Promotion Robert Badinter.

Oumar is an experienced board director who is very engaged in the community, having already been on several boards and selection committees. He is the president of the Réseau des Entrepreneurs et Professionnels Africains - African Business Network in Canada (REPAF) and a board director at Concertation Montréal (CMTL), where he oversees the Economic and International Attractiveness agenda. He is a member of the Young Leaders Circle of the International Economic Forum of the Americas (FEIA) and an Ambassador of the "I Choose Montréal" initiative initiated by Montreal International and the Ministry of Immigration, Diversity and Inclusion. He was also trained at the Collège des Administrateurs de Sociétés (CAS) – Corporate Directors training in governance.