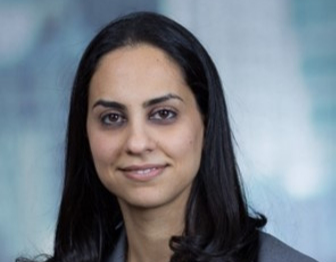 Vice President, Global Corporate Bank, J.P. Morgan
Farah Abdul Baki is a Vice President in J.P. Morgan's Global Corporate Bank covering some of Canada's largest companies. She is responsible for helping her clients meet their objectives through providing financing, risk management, working capital, cash management and investments solutions.

Beyond her coverage responsibilities, Farah leads J.P. Morgan's Investment & Corporate Banking recruiting efforts for Canadian universities. She is also the Co-Chair of J.P. Morgan's Canadian Volunteer Leadership Group and a member of JPMorgan Chase's Canadian Philanthropic Committee, which focuses on philanthropic investments in inclusive economic growth, community development and education across the country.

Farah started her career in J.P. Morgan's Investment Bank after obtaining a Bachelor of Commerce degree from McGill University.

She currently lives in Toronto with her husband and son.